wedding transportation service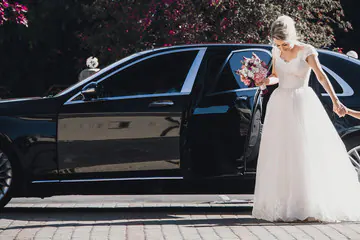 Are you planning a wedding? Did you make transportation service arrangements for the guest and family members?
If you are worried about transportation service then ANB Trans Inc has a solution for you. We will provide you with the best A-list Wedding Transportation Service in Philadelphia. Your wedding is a big day for you and it's more important to your family members. However, it's also true that one of the best things about weddings is all the memories and that wouldn't be possible without all the wedding guests. Making sure that all of your loved ones get to the venue on time safely, it's convenient and comfortable. Here are some of the reasons why you should book a wedding shuttle when you tie the knot to a special person. Safety assurance: Safety is always a big concern for everyone, there is nothing more important than life in this world. We have very highly trained drivers that are very experienced and professional towards every client. They will make sure that your ride is safe and secure. In case you have elderly grandparents, or elderly guests attending your wedding we will make sure they are safe and secure. Booking a shuttle service with us means that they'll be able to maintain social distancing and that they won't be in contact with strangers, and we also follow all the sanitization protocols. We will make your grandparents and other older attendees feel extra special by hiring a vehicle just for their use, and parking won't be an issue and we will make sure that they don't have to walk a long distance to reach the destination of the wedding. Privacy: Booking a wedding shuttle service means that the party after the ceremony should be done and it should be done with close people you want in the party, not everyone you invited to the wedding, only close friends and family members. It's a great way to unwind or keep the party going away from the prying eyes of the guest you may not be comfortable with. Bride and Groom: The bride and groom should be on time for the ceremony and it's our responsibility to make sure that the bride and the groom are on time on their big day. It's not only about the wedding day but we also have to make arrangements for the transportation services before the wedding day for the rehearsal dinner. Having the bride and the groom arrive together with their entire wedding party would be a day to remember for everyone. Convenience is topnotch: If your friends and relatives are not from the same town and you want them to be at your wedding and they are booking multiple ride-sharing cabs, or expecting them to make their way isn't always suitable, expressly when there is more than one venue involved. Booking a wedding shuttle from ANB Trans Inc will make you stress-free.
---