Top Tips for International Business Travelers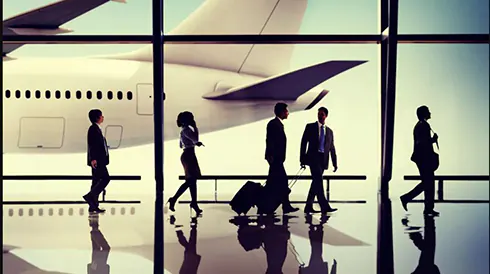 Traveling for work can be difficult, but it does not always have to be a hassle. Whether you're embarking on your first business ride with Anb's Philadelphia limousine or a seasoned pro, here are some tips for making a domestic or international business ride more enjoyable. ANB Trans Inc's PHL airport limo service offers you a luxurious alternative to the annoying trains, buses, and expensive parking fees at the airport by offering chauffeured transport directly to the terminal. On your return, your chauffeur will be waiting for you at the baggage claim or on the sidewalk at the airport. The entire team is highly professional at all times and is committed to the needs of our customers
1. Getting in the Travel Spirit:
Plan Your Flight and Accommodations You can keep water on board for the duration of the flight. Make a point of drinking plenty of fluids. Flights to Asia and Europe will provide you with pillows and gel packs to reduce swelling caused by cabin pressure. You can reduce your chances of swelling up like a blowfish if you avoid alcohol. To help with snoozing issues while flying, add natural melatonin to the mixture. When you ebook a hotel, name it ahead of time and try to ebook multiple options. I've booked high-priced hotels in New York, London, and the south of France only to find them to be two stars at best. If you discover that hotels do not meet your expectations, you should always have a backup plan.
2. Do your homework:
Contact your airport's business lounge. Eager to unwind before the subsequent leg of my 17-hour flight, I took a brief commute train ride from the plane to the airport, passing through numerous eating places and duty-free shops to the Japan Airlines lounge. When I walked in, there was a lounge and a full sushi bar in the center, complete with sake and desserts. The room darkened and became steamy. As my eyes adjusted, I was astounded to see a slew of perfectly coiffed, geisha-like ladies look up in alarm. I noticed about 20 men on the outside of the room, many of whom were undressed and receiving massages from the women. Clearly out of my element, I walked out of the lounge, hungry but amused at how different the airport lifestyle changed from my other travels. The moral of the story is to call ahead of time and inquire about the airline lounge's club profile—it may save you some embarrassment.
3. Make personal and professional contacts in your area.
Before I travel, I try to determine who my 'team' maybe by asking colleagues and customers who may have friends, own circle of relatives, or coworkers residing nearby before my ride so that I have someone to contact in case of an emergency. For private contacts, I ask who has an Uncle or Auntie who lives in the area. Then I get their mobile phone number, telecall phone number, or smartphone number. It's fantastic how often it ends with me having a meal with my circle of relatives.
4. Obey the Customs.
This is self-evident: Obey the laws if you're in a rural where there's a first-class for disobedience. This method prohibits taking unauthorized photographs, spitting, or defiling property. You should also dress appropriately and respectfully. In other words, represent and do not give anyone reason to criticize your cultural behavior.
5. Bring Sturdy Luggage and Pack Lightly
If you are traveling for a short period (10 days or less), avoid carrying large amounts of luggage. Unless you're staying at someone's home, nobody is going to look at you twice in the same day; thus, carrying a few extra than once will no longer affect how people understand you. If you want to wear a different outfit to your paintings every day, that's fine. However, if you are clever and use a percentage of garments, you will be able to blend and healthy without difficulty to create unique looks with the use of much less clothing. Also, keep in mind that if your luggage is simply too heavy to move, you may have to pay additional fees. Worse, if your luggage is old or no longer well-made, it may collapse in transit, as mine did once inside the UK. I was one of 12 US tourists separated in a lounge (one of the passengers changed into an older, now deceased, Hollywood actor). I had overpacked a bag, and it had split, spilling its contents onto the ground between the ramp and the aircraft. As I scrambled with the team to gather my disgraced underwear, shoes, and toiletries before boarding, the superstar couldn't stop giggling.
---